ABOUT US
LUCY DONNELL IS A LUXURY SCOTTISH KNITWEAR DESIGNER BASED IN GLASGOW.
LUCY GRADUATED FROM THE GLASGOW SCHOOL OF ART IN 2008 HAVING SPECIALISED IN KNITTED TEXTILE DESIGN. AFTER SOME YEARS WORKING IN INDEPENDENT RETAIL, HERITAGE AND KNITWEAR BUSINESS, LUCY BEGAN DEVELOPING HER OWN PERSONAL PRACTICE, AND SET UP BUSINESS IN 2013.
HIGH QUALITY AND SUSTAINABILITY ARE CENTRAL TO OUR BUSINESS ETHOS.
EVERY ITEM IS MADE IN SCOTLAND, ON A HAND FRAMED KNITTING MACHINE IN THE TOWN OF HAWICK, WHICH IS FAMOUS FOR ITS HISTORICAL PRODUCTION OF HIGHEST QUALITY KNITWEAR.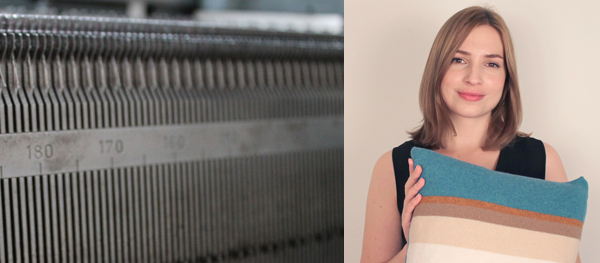 WE CURRENTLY PRODUCE A SELECTION OF KNITTED ACCESSORIES FOR FASHION AND THE HOME.
EACH PRODUCT IS MADE FROM 100% FINEST GEELONG LAMBSWOOL, SPUN IN BRITAIN.
COMPANION PRODUCTS SUCH AS HOT WATER BOTTLES AND CUSHION PADS HAVE BEEN SOURCED WITH THE SAME CARE AND ETHICS APPLIED TO ALL ASPECTS OF OUR BUSINESS, MEANING YOU CAN BE SURE OF BOTH QUALITY AND SUSTAINABILITY.